AI vs IO: the battle for the tech domain crown
A domain cannot become established within a market niche, by a person or an entity, until it has been fully accepted by its target online community. A very good example of this is the battle for the tech domain crown, between .AI and .IO domain extensions.
Naturally both of these domain extensions do provide certain benefits, and also can be considered lacking in other fields, which is the main purpose of this article, to unravel this knot and discuss it with further insight.
Why would you choose the .AI domain extension?
The most common and most obvious reason for choosing .AI domain extension for your URL is if you are in the business of artificial intelligence. It is an amazing way of displaying your devotion to this rising tech industry and provocative branding your company website.
The domain registration statistics for .AI domains clearly communicate that it is a desirable and very much sought after domain extension for this purpose.
The strong tech contender .IO domain extension
Over the last five years another contender for the most popular tech domain has risen with .IO domain extension being named as one of the most sought after, especially for tech startups.
While some would argue that the most appealing aspect of .IO domain extension was its high namespace availability, there is a more compelling story behind the connection of this domain to tech companies.
With the rise of "nerd" culture it has become popular and some would say even desirable to mimic well-known coding, programming and tech terms, and some recognized the .IO domain extension as short for "input/output" (I/O).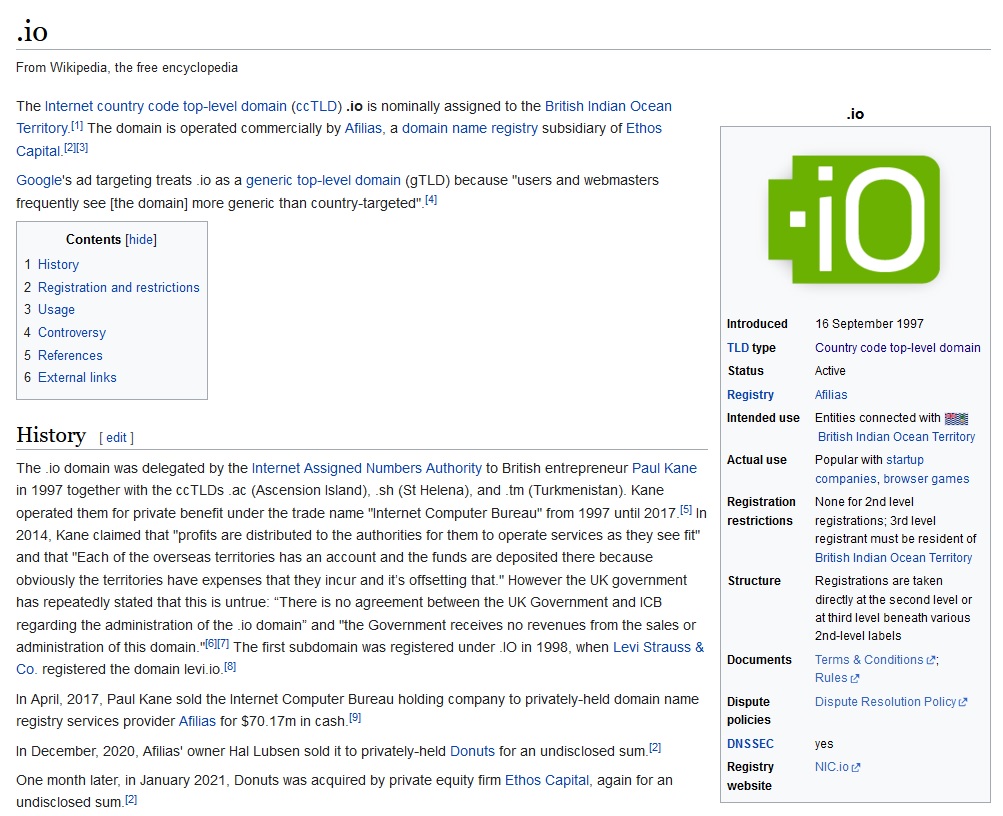 The term I/O is used to describe the way how modern devices (and software) work – by receiving the input of data (through a keyboard or other device), processing it, and then outputting it (with a display or other output device).
This "nerd bonanza" sprouted the popularity of .IO domain extension with tech communities, albeit some would say largely with startup companies which cannot obtain a budget for a suitable .COM domain.
How can we compare .AI and .IO domains?
Comparing these two domain extensions, first we can conclude that they are both top level domains based on country codes of somewhat smaller countries that cannot utilize them in a high volume.
Geography connoisseurs will note that both .AI (Anguilla) and .IO respective countries (British Indian Ocean), were at some point in time territories under British Empire jurisdiction.
Knowing that any modern region today needs its own set of tools for its online presence, this gave birth to these two "geographically small" domain extensions, conceived by local entrepreneurs, institutions and ICANN.
TLD
.IO
.AI
Domain registration price
Promo: $28 – $33
Regular/renewal: $33-59
Promo: $65 – $70
Regular/renewal: $68 – $80
Registration requirements
Anyone can register
Anyone can register
Domain registration speed
6 to 24 hours
6 to 24 hours
DNSSEC
Yes
Yes
Popularity
IT and tech startups
IT sector (machine learning)
Number of indexed domains
907 thousands
114 thousand
Language support
English – US, UK
English – US, UK
IDN
DA, DE, IS, LV, LT, PL, SV, ES, HU, FR, PT, IT
cannot contain non-ascii characters
Is it used for malicious sites?
No
No
At this moment we can relate that .AI domain extension has roughly a little shy of 114 thousand domains registered, while .IO domain extension boasts around 907 thousand domains registered making it a much more utilized domain.
Going over some other financial data that is available to use we would point out an example where some $15 billion of investor deals was done with a notable 1349 deals and 220 of them are startups with .AI domain extension.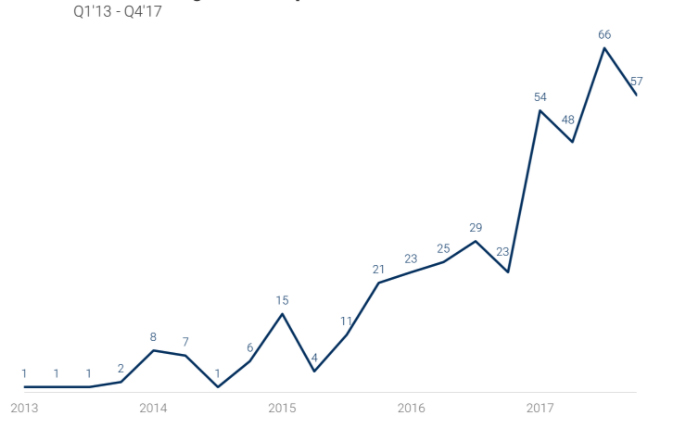 While this is not a lot it still means that .AI domain is not a bad choice for a startup, as long as you are able to provide innovative ideas, products, involve experts and drive your vision to the finish line.
Conclusion
Before we conclude this domain comparison, I would like to give a few tips that can make your choice much easier:
Keep in mind that .AI domain extension communicates the current hype around artificial intelligence, meaning it can be a good choice if you really are invested in this industry.
Overpriced .COM domains can be avoided until your marketing budget allows for a perfect-matching domain.
No one can argue that short .COM domains will not be the most expensive, but we have to take into account the data stating that almost 6 billion people today are living without internet access, and we are sure they will get it in the near future.
New domains are increasingly popular as the new generation of internet users is able to recognize URL addresses beyond the original domains (.COM, .NET and .ORG).
We can confirm that .IO and .AI domains are recognizable and more importantly they can provide you with a short domain name, one that is available for registration.