We would like to argue .IO vs .COM for a number of reasons and suggest that you choose the better domain.
Brainstorming a new domain for a tech project or a startup usually ends up in looking-up an expensive aftermarket domain.
Why do most companies look for .COM domains?
Everyone knows that .COM domain extension is the most recognized one, and that it will lead the customer to an online place such as a website or web app.
For large businesses that want to project a successful online presence it has become a staple to own a short, memorable .COM domain that is a perfect match for a specific product or service, or their company name.
We all know that such a short .COM domain name will cost at least five figures, or more, which means many small businesses and startup companies will not be able to afford purchasing such an expensive domain name for marketing purposes.
Alternatively, companies would have to choose a lengthy three-word .COM domain name, with a number of negative effects that must be accepted as a compromise solution.
Who should look for .IO domains?
Luckily for tech companies and startups, an attractive alternative domain extension has become popular, especially with techies.
The .IO domain extension is an acronym for "input-output", a tech term for communication and exchange of data, and as such it presents the perfect alternative.
While being the ccTLDs for British Indian Ocean Territory, sporting 907 thousand domain registrations, it is almost entirely used by tech companies ranging from different startup projects, browser games, and online services.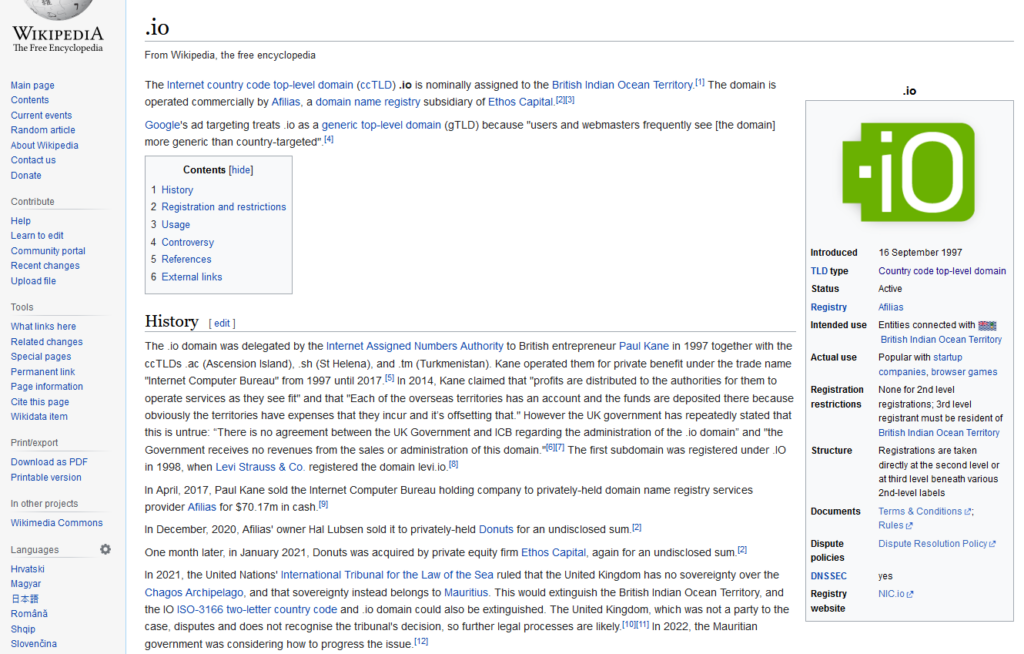 This extreme popularity among techies is due to their ability to relate to the domain extension, and in part because of the large namespace availability.
What this means is that a small startup project will be able to find and register a perfectly matching .IO domain name for a specific product, service or company name, and avoid having to look at overpriced pre-owned .COM domain names.
A short and memorable .IO domain name will have a very positive effect on the online presence as clients and customers will be able to recall it easily, typing errors will be minimal, and any marketing material showing the domain will look sleek and professional.
Here is a table containing comparable .IO vs .COM domain features
TLD
.IO
.COM
Domain registration price
Promo: $28 – $33
Regular/renewal: $33-59
Promo: $5 – $12
Regular/renewal: $9.99-$20
Registration requirements
Anyone can register
Anyone can register
Domain registration speed
6 to 24 hours
Instant
DNSSEC
Yes
Yes
Popularity
IT and tech startups
Retail website sector
Number of indexed domains
907 thousands
161 million
Language support
English – US, UK
English – US, UK
IDN
DA, DE, IS, LV, LT, PL, SV, ES, HU, FR, PT, IT
LATIN1, LATINA, LATINB, CYRILLIC, GREEK, GREEK_EXT
Is it used for malicious sites?
No
Yes
Are there any other negative or positive sides to using a .IO vs .COM domain?
Actually, it is very difficult to find a negative point of view of using the .IO vs .COM domain names as there are many more positives.
Looking at its pricing, it is a bit more expensive than a new .COM domain registration, but the somewhat higher price serves as a deterrent for fraudulent and malicious site owners who look for cheap domains that can be easily discarded.
Registration requirements for both .IO and .COM domains are the same – anyone can register one of the other, and both support DNSSEC security features, meaning in this regard they are tied.
Looking at the IDN support for non-ascii characters, again .IO domain extension supports a larger number of different IDNs though if you truly wish to use a cyrilic or greek character set with your domain, then you will have to get a .COM domain.
Conclusion .io vs .com – the cool new domain is .IO
The Internet has certainly come a long way from the Web 1.0 and current generations of Internet users are able to recognize more than just .COM domains.
Arguably, owning a short domain .COM domain will become more of a status symbol for wealthy corporations and those that want to make a statement.
Everyone else will be using other attractive domains, and the tech industry has already made its choice – it is the cool new kid – .IO domains.