A somewhat under-utilized pair of domains that in part share their target audience, in this article we want to compare .RS and .AX domains.
National internet domains are usually considered territorial/regional bound, until a domain is recognized by a larger global audience, and in most part turned into a general-purpose domain.
What are the benefits of owning a .RS domain?
Talking about .RS domain extension, it is the country code TLD for Serbia, but given its interesting two-letter nature it is also a recognizable ending for a large number of English words, for example cars, fours, yours, cheers, weavers etc.
The benefits of owning a .RS domain are:
Regional geotargeting
Namespace availability
Identity-personalized domains
English words domain-hack opportunity
Security
Popular with RUST developer (coding) community
A .RS domain is most likely to be used for its regional geotargeting traits. Especially for e-commerce websites, it would be best to use a regional domain extension, hence .RS country-code domain is a very good choice to target the west balkan region audience.
Considering there are only around 125 thousand registered .RS domains, we can say that this domain extension has an excellent namespace availability, and provides any prospective domain owner with a chance to register a new domain that fits their needs.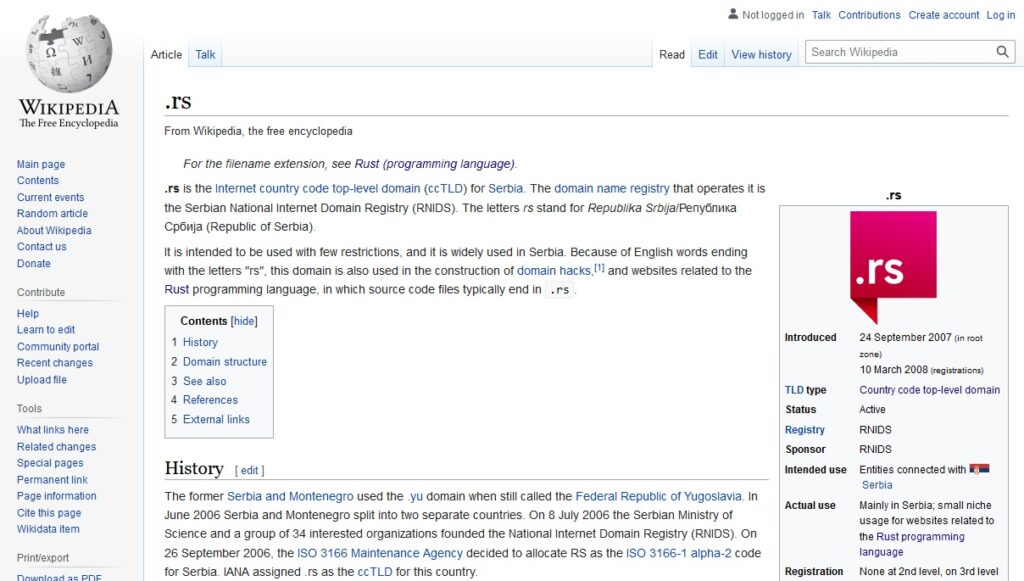 In turn, this provides the ability for any individual or company to create an identity-personalized domain that is a perfect match for their products, service or company branding project.
In total, there are around 11585 or more words in English that end with .rs letters and this provides an excellent opportunity for a witty domain hacker to register an original and unique domain.
Following RNIDS rules and regulations, any .RS domain owner is required to provide accurate and valid data to the registry, which in turn provides greater degree of reliability and security for both visitors and site owners.
Last but not least, we would like to note that the .RS domain extension is recognized as the go-to domain choice for the RUST (programming language) community and their projects.
Somewhat expensive tech-focused .AX domain
Another domain that started as a ccTLD, the .AX domain extension is originally purposed as a country code domain for Aland Islands, one of the smallest regions in Europe, and a province of Finland.
Aland Islands local economy is based on the shipping industry with a small number of carriers, some trade and tourism, and a few high-profile technology companies.
The .AX domain registry holds under five thousand registered domains which makes it one of the most available domain extensions on the market.
The main reason for such a low number of registered domains is due in most part to the somewhat high domain registration price, when compared to other ccTLD and even gTLD domains, and the fact that this domain extension never received a promo price aimed at increasing its customer base.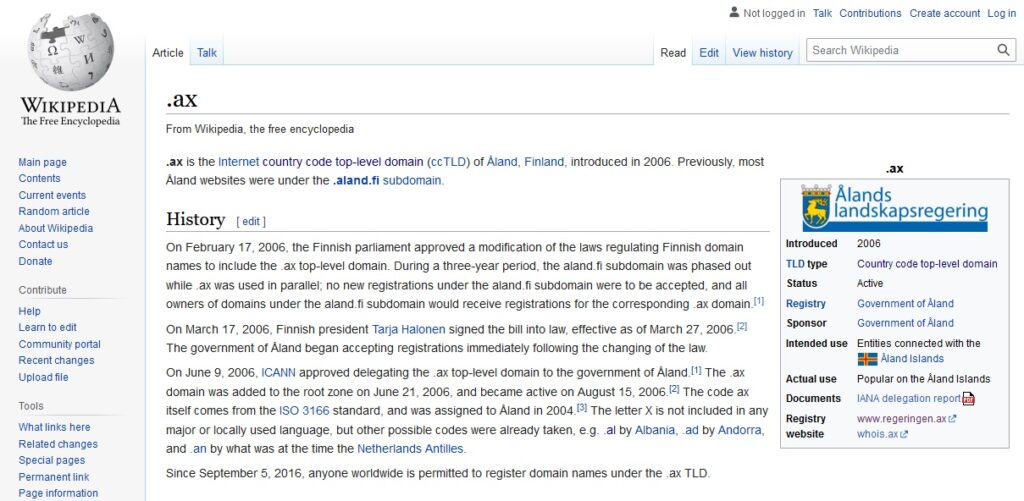 However, this actually may not be a bad thing, because this detteres malicious and fraudulent websites from using .AX domains, hence websites using this domain extension enjoy a very good reputation with their customers.
We can conclude that an .AX domain name can be one of the best choices for a local or international company wanting to represent their service, product or company with a perfectly matching domain name.
Comparing rival .RS vs .AX domains
Here is our comparative breakdown for .RS vs .AX domains:
TLD
.RS
.AX
Domain registration price
Promo: $7 – $26.99
Regular/renewal: $27.83 – $31.50
Regular/renewal: $31
Registration requirements
Anyone can register
Anyone can register
Domain registration speed
6 to 24 hours
6 to 24 hours
DNSSEC
Yes
Yes
Popularity
Regional, English words (RS ending) domain hacks, and RUST (community)
Tech sector companies
Number of indexed domains
125 thousand
5 thousand
Language support
English – US, UK
Spanish, English – US, UK
IDN
Cannot contain non-ascii characters
FI (å ä ö)
Is it used for malicious sites?
No
No
Conclusion .RS vs .AX
We can conclude that both .RS vs .AX domains enjoy an excellent namespace availability, providing amazing opportunities for unique, short and memorable domain registrations.
In our experience, registering a .RS domain is significantly faster than .AX as the latter is still done via traditional email communication.
Since both domains provide DNSSEC and both are virtually free of malicious and fraudulent websites, both make a good choice for a personal or business website.
In the end, the choice will come down to your personal preference – are you more interested in making a recognizable and unique English word domain hack ending with .RS or would you be satisfied with a more generic .AX ending for your website.