Strictly from a financial point of view, why is .AI vs .CO that much more expensive? Is it really worth it, or should you be looking for an alternative?
Choosing a brand new domain name for your website is not easy. In this article we give you our comparison, coupled with answers to the questions above to help you decide.
At first glance an .AI domain registration looks expensive?
If you were browsing any domain registration pricing catalog you will notice that the .AX domain name registration is significantly higher than the average domain name registration.
Naturally, it would be a deterrent as any brand-new website or startup owner will think about getting something cheaper that would provide more value for the money.
Thing is, if you are in a specific industry niche, you absolutely must want an .AI domain name as it will provide a number of amazing benefits to your business.
Most importantly, the .AI domain extension is a short for artificial intelligence, and as such it provides perfect branding for companies in deep learning, machine learning and artificial intelligence industries.
While essentially a ccTLD for Anguilla, the .AI domain extension is generally recognized as a general-purpose domain for the AI industry.
A somewhat high .AI domain registration price is actually a boon in disguise
We could argue that for the price of one .AI domain you can get a two-figure number of other domains, but in this case the positive effects outweigh the negatives.
The price of .AI domains makes it attractive solely to those that really want to use it for a specific project, startup or company online presence, hence there are not so many domainers holding good domains.
This in turn provides excellent .AI domain namespace availability, and you will be able to find a preferred domain available for registration without any issues.
Finally, because the price is not low-enough, the domain does not receive any attention from scammers or fraudulent websites, and is virtually not used with malicious intent. Websites using .AI domain names hold a good reputation overall.
.CO domain is the attractive alternative for commercial websites
On the other hand, we have the .CO domain extension which looks like the shorter version of the most popular domain (.COM).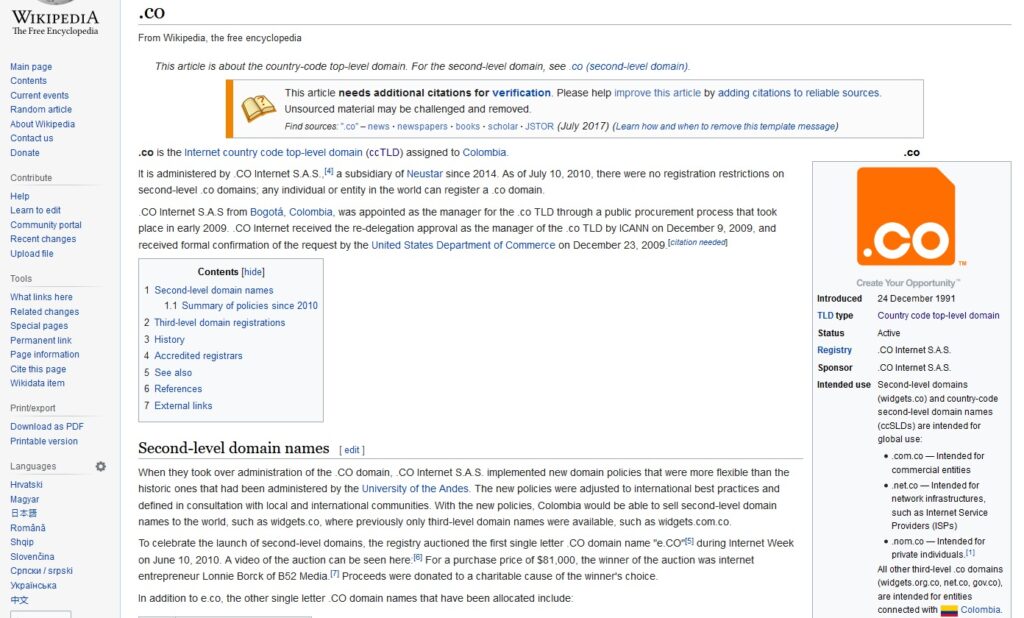 To avoid confusion right away we will note that .CO is the ccTLD for Colombia and holds a significant number of domain registrations overall with more than 2 million registered domains.
However, this does not mean that the domain is not an interesting one from the perspective of a commercial website owner, and not just because of its low domain registration price.
Even with this number of domain registrations, you are still bound to find excellent two-word domains, and if you are lucky enough a one-word domain that is a perfect match for a specific product or service.
From our point of view, the main negative side of a .CO domain is that the low domain registration price makes it relatively attractive for use with fraudulent and malicious websites, though no more or less than an average .COM domain.
However, having DNSSEC with .CO domains is a step in the right direction, and will ensure your website visitors will feel safer and more comfortable while interacting with you.
Here is the list of comparative features for .AI vs .CO domains:
TLD
.AI
.CO
Domain registration price
Promo: $65 – $70
Regular/renewal: $68 – $80
Promo: $3 – $7
Regular/renewal: $23-$37
Registration requirements
Anyone can register
Anyone can register
Domain registration speed
6 to 24 hours
6 to 24 hours
DNSSEC
No
Yes
Popularity
IT sector (machine learning)
Commercial sector
Number of indexed domains
114 thousand
3,37 million
Language support
English – US, UK
Spanish, English – US, UK
IDN
cannot contain non-ascii characters
DA, FI, FR, DE, HU, IS, LV, LT, NO, PL, PT, ES, SV
Is it used for malicious sites?
No
Yes
In conclusion .AI vs .CO
In conclusion, if you are thinking about choosing an .AI vs .CO domain name, we would recommend that you consider the features and qualities of both domains we have stated above.
Overall, both domains hold a specific customer base, where .AI domains are excellent for targeting the artificial intelligence industry, while the .CO domains are better suited for commercial websites.
On a final note, we think that you will want to know this – the auction of expired .AI domains is undertaken every ten days where expired domains can be acquired through the auction process, leading to acquisition of some very strong, valuable domain names.