A shortage of domains, or should we rather say more particularly good domains that provide certain qualities, drives us to give you .COM vs .CO domain comparison.
We will discuss both domain quality and recommendations based on our experience.
Globally the most popular are .COM domains
Purely based on numbers, globally, there are over 161 million .COM domains and it is indeed the most popular domain with many different use cases:
Websites
Domain trading
Digital property (ownership)
Identity protection …
We can think of more reasons to own a .COM domain, as it is the most recognizable domain, and everyone knows that a world that finishes with .COM is an online place – a website.
Talking about websites, among big and well established companies, owning a perfect matching .COM domain name for their commercial website is a symbol of status in their corresponding industry.
Then again, currently, as a small company owner you are not really likely to own a perfect .COM domain name for your company, product or service, as you would have to get it as an aftermarket domain and it is very expensive.
Domain trading is a popular "new age" method of making a profit, with short and memorable .COM domains holding a high price globally, hence being a target domain traders and flippers.
As a digital property, domains have established themselves as a digital sibling to real estate, though just like with it. There are factors that determine the value of a domain and as such, just like real estate, some domains are not worth much even if it is a .COM domain.
Finally, everyone today is able to make a website and if shrewd enough, can try to impersonate another individual or company online, hence both companies and individuals will buy a number of domains to protect themselves online, often including .COM domains.
Let us introduce you to .CO domains
There are a few reasons why the .CO domains are more and more attractive, and we are excited to give you a heads-up on this topic:
.COM vs .CO similarity
Human typing error
Short and memorable domain registration
Online presence protection
Starting as the country code domain for Colombia, and since there are no registration restrictions for .CO domains, any individual or entity can register it – and the domain soon attracted global attention.
When someone was looking for a specific website, in most part due to its similarity with .COM and because of the human typing error, the internet user would end up at its .CO domain counterpart website.
Arguably to an average internet user, if you would give them a look at both .COM vs .CO domain version at first glance they would respond it is the same domain.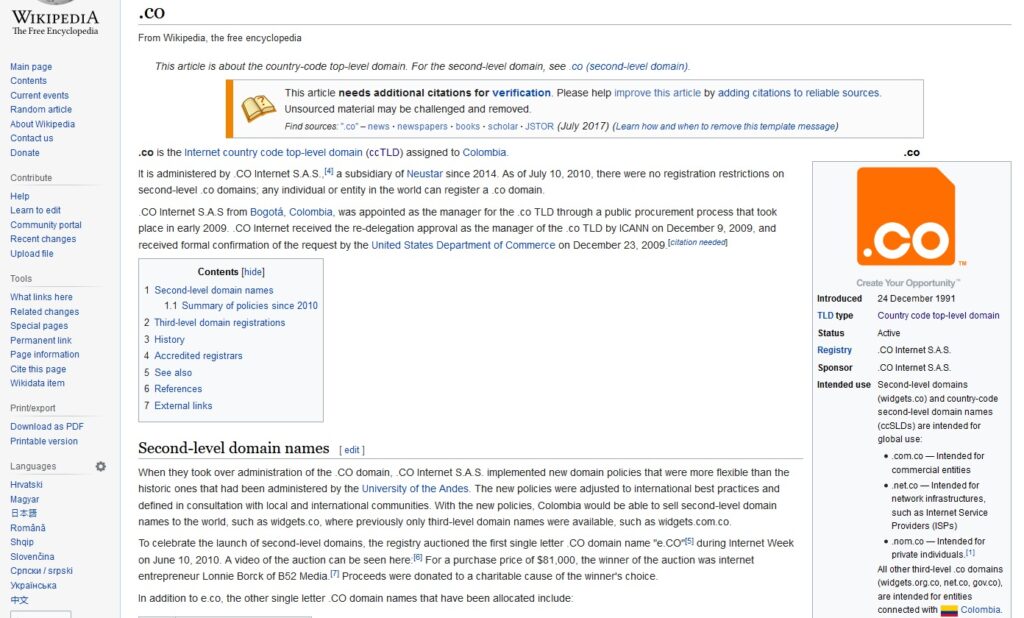 Naturally, SEO experts with companies noticed this trend and started buying into .CO domains, for all the reasons mentioned above.
Additionally, with only 3,37 million domains registered, the .CO domain extension provides ample namespace availability and you are very likely to find a short and memorable two-word domain for a specific purpose, or even a one-letter domain for that matter.
How to compare .COM vs .CO domains?
Here is a breakdown of important metrics and features for both domains:
TLD
.COM
.CO
Domain registration price
Promo: $5 – $12
Regular/renewal: $9.99-$20
Promo: $3 – $7
Regular/renewal: $23-$37
Registration requirements
Anyone can register
Anyone can register
Domain registration speed
Instant
6 to 24 hours
DNSSEC
Yes
Yes
Popularity
Retail website sector
Commercial sector
Number of indexed domains
161 million
3,37 million
Language support
English – US, UK
Spanish, English – US, UK
IDN
LATIN1, LATINA, LATINB, CYRILLIC, GREEK, GREEK_EXT
DA, FI, FR, DE, HU, IS, LV, LT, NO, PL, PT, ES, SV
Is it used for malicious sites?
Yes
Yes
The main difference between .COM vs .CO is that the bigger brother is a generic TLD while the smaller one is a country code TLD that is recognized for its general-purpose use globally.
Looking at their pricing, when on promo, both .COM vs .CO can be registered for a few dollars, which has a specific consequence which we will discuss later.
Domain registration speed is usually a bit better with .COM vs .CO though again both domains can be registered by anyone, globally, and the DNSSEC feature is available with both of them.
Language support and IDN support for .COM is targeted at English speaking regions, while .CO can be used for targeting both English and other languages and regions.
Given the low domain registration price, yes, again both .COM vs .CO are popular with malicious or fraudulent websites.
Conclusion .COM vs .CO which is better for you?
We want to give you a straight answer to the question which domain .COM vs .CO is better for you, and in most part it depends on your marketing budget.
If you or your company can afford to get the perfect .COM domain name, very likely in the form of an aftermarket domain with a price range of five figures, then by all means go get it.
However, if you are a commercial website without such means, then you should rather choose .CO domain as the much cheaper alternative, and instead focus your funds on your overall online business success.
Later, when your business is sustainable and successful, you can get the prized moniker of online success – the perfect .COM domain – to market your business as a leader in the industry.